Did you know August 9th is National Book Lovers Day? Me either. But the more I'm on social media (good? bad? ugly?) the more I realize there's a day for everything.
I've wanted to find occasion to celebrate the gorgeously bold book "How Mamas Love Their Babies" by Juniper Fitzgerald, illustrated by Elise Peterson for a while. So thanks national holiday calendar.

This book quickly became my go-to new baby gift. (Don't worry if you haven't gotten a copy. If you've had a child in the past 2 yrs you're still eligible).
I was introduced to this book at an event Dee Poku, Founder of the WIE Network a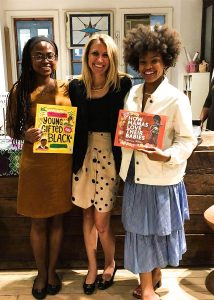 nd The Other Festival hosted in early May. The event, "Stories We Tell our Children," focused on the importance of diverse representation in children's literature. There I got to meet Elise (far right) and Jamia Wilson, Executive Director of the book's publisher, Feminist Press.
In How Mama's Love Their Babies, Fitzgerald and Peterson work together beautifully, creating stunning word and picture images of the myriad ways mothers care for their babies — with their heads, their hands, and their bodies.
"How Mama's Love Their Babies is the first book to feature a mother as a sex-worker and in so doing challenges traditional "right" ways to mother. The book sends a clear message: no matter what work a mother involves herself in, all mothers imagine a world where their children are safe, loved and cared for.

Who can disagree with that?
Quite a few parents (maybe you!) and caregivers I imagine.  Talking about sex work and nightclub dancers to young kids is a horrible idea! Nevertheless recognizing it as a form of mothering!
Is it?  How do you tell that to the child whose mother is a sex worker, happy about it or not, in order to provide food for her children?  If your initial reaction to this notion is one of judgment or scorn, I ask you what the world would lack – or gain —  if we celebrate a wide range of mothering? I ask you to consider the privilege and circumstances that have gotten you to a place in life where you are able to mother your children at home or mother them by making money in more "traditional" ways?
"In this cultural moment where publishers are finally beginning to realize how urgently We Need Diverse Books, nobody is talking about the lack of representation of sex workers in children's literature. Meanwhile, millions of sex workers all over the world are going to work to support their children while lying to their children about what they do for work. These children grow up knowing but not knowing, knowing they're supposed to be ashamed, lacking any external affirmation that their parents are good people who love them, hearing about sex workers only as the brunt of jokes, or as tragic, fallen women."
Quote from an interview by Rachel Aimee with Fitzgerald for Mutha Magazine. Read the whole thing here.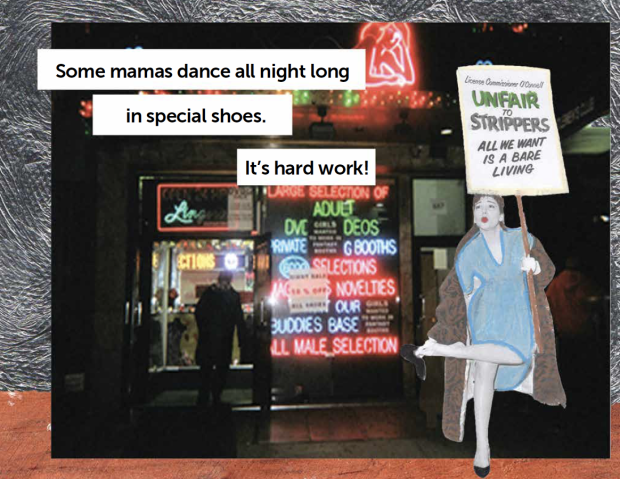 Thanks, Juniper Fitzgerald (a former sexworker herself) and Elise Peterson for this groundbreaking and immensely important creation.
Happy National Book Lovers Day, but more importantly, happy imaging a judgment-free, accepting world of the diversity of mothers.
Happy raising imagination.