I've known Gaby and her family for almost 12 years. Gaby's spirit is unassumingly strong.  Over the years I've watched her nurture her younger siblings, babysit my children,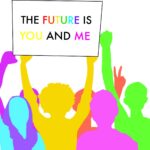 chaperone youth and children events at Rauschenbuch Metro Ministries where we met, and become a killer art designer.  A few months ago I benefited from her skills as she designed the logo for a summer camp curriculum I wrote, "The Future is You & Me."
I recently had the honor of joining her family and friends at her graduation celebration. She graduated from Baruch College Zicklin School of Business with an Advertising Marketing Communications bachelors degree and a minor in Graphic Communications and Sociology.  It was one of the most fun evenings I've had all year!
Gaby's story is one that should be told.  Hashtags to most of us are Gaby's reality. DACA.  Immigration.  The DREAM Act.  Citizenship.  Here to Stay.  Her tenacious determination to finish school, care for her multigenerational family, work for pay outside the home, give back to the community, and invite people like me into her life inspires me to imagine more for humanity.  I hope it does the same for you.  Thank you, Gaby, for sharing with Raising Imagination.
I imagine a world where a piece of paper doesn't identify me.
I imagine a world where a piece of paper doesn't define the places I can travel to.
I imagine a place where hard work is rewarded and where people can live off doing work that inspires them and brings them great satisfaction.
Tell us a little about yourself!
I often feel like I am very different from most people.  I have been an adult since I could remember. I grew up very differently than my siblings and cousins.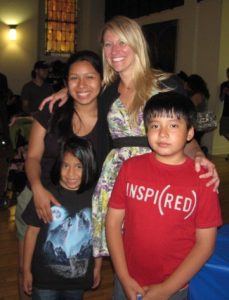 Now that I think about it I feel like I was raised to always expect a lot from myself. I was the first for pretty much everything in my family. I am the first granddaughter, first child and first in my family to graduate from college in the USA. (YEAH!!) I am the one to set an example for the younger members of my family.  I always tell my siblings "If I can do it, you can do it too."
Gaby came to the United States from Puebla, Mexico, at the age of seven. She is what has recently been termed a DREAMer.
DREAMers: Undocumented immigrants who came to the US as kids and grew up in the US. But since they don't have legal paperwork, they can't apply for jobs. Or even travel outside the US, because they won't be let back in. The term comes from The Development, Relief, and Education for Alien Minors Act – ie: the DREAM Act that would essentially pull this group out of legal limbo. It's been bouncing around Congress since 2001 but has never made it to the finish line." (The Skimm)
"My grandparents first came to the States in search of better job opportunities. My grandma was able to get her first daughter (my mom) through college back in Mexico while working at a sewing and clothing factory in the Garment District in Manhattan.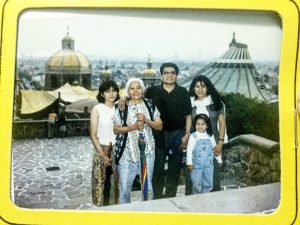 Having the family separated wasn't working for anyone.  Everything seemed to be falling apart. My grandma decided to bring her children to the States. She knew it wasn't going to be easy but knew it would be worth the hard work and effort and she was willing to risk everything to have her family back together.  When I hear of the stories of my family's first experiences here, I am grateful for their sacrifices and hard work."
What do you remember from your early days in America?
When I got to the US I was out of school for several weeks.  My mom and my uncle went to many lawyers to try to get me into school.  Public schools didn't want to accept me.  Once I finally got in, elementary school was hard.  Not only because the content I was learning was different, but because I couldn't talk to anyone in my class. I remember A few of the kids in my class would try to talk to me in broken Spanish.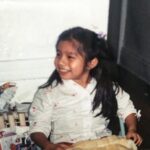 In Mexico, I was a very social kid.  All the teachers knew me as did most of my classmates. When I came here, my light kind of shut off.  It tried to and will continue to try and stay lit.   
I had the best second-grade teacher ever.  Her name was Ms. Konic. She was very patient with me and used her lunchtime to tutor me and teach me English. But the students weren't always so nice.  towards the end of second grade, our music teacher asked who was going into third grade. I raised my hand confidently and one of the other students told me to put my hand down because I was dumb and couldn't speak fluent English.  That hurt me a lot.  But it also pushed me to prove people wrong and continue my academic growth.
I didn't realize I lived in the shadows until I felt like I had to hide.
How are you doing with so much uncertainty surrounding the DREAM Act and DACA? 
I often feel normal…if that's even a thing. When talk about the DREAM Act started, I realized for the first time that I was different and that I actually wouldn't be able to do much without this Act. I didn't realize I lived in the shadows until I felt like I needed to hide.
In 2012 Deferred Action for Childhood Arrivals (DACA) was created. DACA provides temporary relief from deportation (deferred action) and work authorization to certain young undocumented immigrants brought to the United States as children (like Gaby).  DACA has enabled almost 800,000 eligible young adults to work lawfully, attend school, and plan their lives without the constant threat of deportation, usually to an unfamiliar country. However, unlike federal legislation, DACA does not provide a permanent legal status to individuals and must be renewed every two years. This is why the passing of the DREAM Act is still key. (American Immigration Council)
On September 5th, 2017 the Trump administration announced that it was ending DACA and immediately stopped accepting new applications, though some renewals were allowed through October 5th, 2017.  I participated in several demonstrations and made hundreds of calls during November and December, urging the Trump administration to pass the DREAM Act in light of their sudden announcement, including Dream Killers in Central Park with the Women's March and United we Dream directed by Paola Mendoza and Yara Travieso. (Watch it if you haven't!) Due to a federal court injunction issued in January 2018, USCIS is now once again accepting and processing applications for renewal, but no new applications for DACA are being accepted.
How have the past few years been for you? 
Getting the working permit wasn't all that easy for us, but it gave me DACA status.  My mom was mostly scared that I would be exposing myself by letting authorities know that I was here when I wasn't even supposed to be. My dad and one of my aunts motivated and supported the process, saying we would never know the effects of DACA if we didn't try. I am glad I went through with it, I am grateful for DACA.  Now I can work, travel within the States and drive.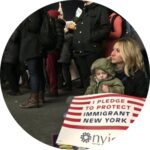 When DACA was taken away, I felt scared. What was I suppose to do now? How would I help my family? Would I have to hide? Was my mom's fear becoming true? Would I have to leave this place I call and only know as home? I had so many questions with no answers, I really disliked the uncertainty and instability. My family always told me to keep positive and trust in God. Now, I have about a year and a half until I renew my papers.
Do you have to do that every two years? 
Yes. And it costs $495.00 every time. 410 for the application and 85 for biometrics.  I've been so fortunate that my parents are able and willing to financially support me in this process.  It's expensive, but a price we will pay for a permit that "grants me permission" to stay in my home.
It seems like your light is still lit, despite this administration's efforts to dim it (again).  
Yes, it is.
Seems like it's a pretty powerful light. 
Yeah, I guess it is.
New York City is home! It's what I love most about America. It is the place where I feel free. It is the place where I can be myself and accept others.  I love the diversity and similarities even if we come from different cultures and backgrounds.  I don't like mistreatment, segregation, and unfairness amongst people, but those aren't unique to NYC or America.
What are you up to now? 
I work at Rauschenbusch Metro Ministries and Metro Baptist Church in various capacities. One of my main responsibilities is to direct the Teen Center.  (A former job of mine, in fact!) The Teen Center is an awesome place for teenagers in Hells Kitchen.  It's more than a place to hang out and work on our academic goals, it's a place where everyone feels welcome, part of a family and motivated to reach personal goals.  I think it's important for our community to recognize that kids and teens are our future and we should acknowledge their creativeness and imaginations. RMM and MBC have given me the opportunity to give back to my community, something I hope to continue to do after graduation.
It seems like places like the Teen Center are lifelines to young people like yourself, who come to a new country or city without any comforts of home or anyone they know.  
Absolutely.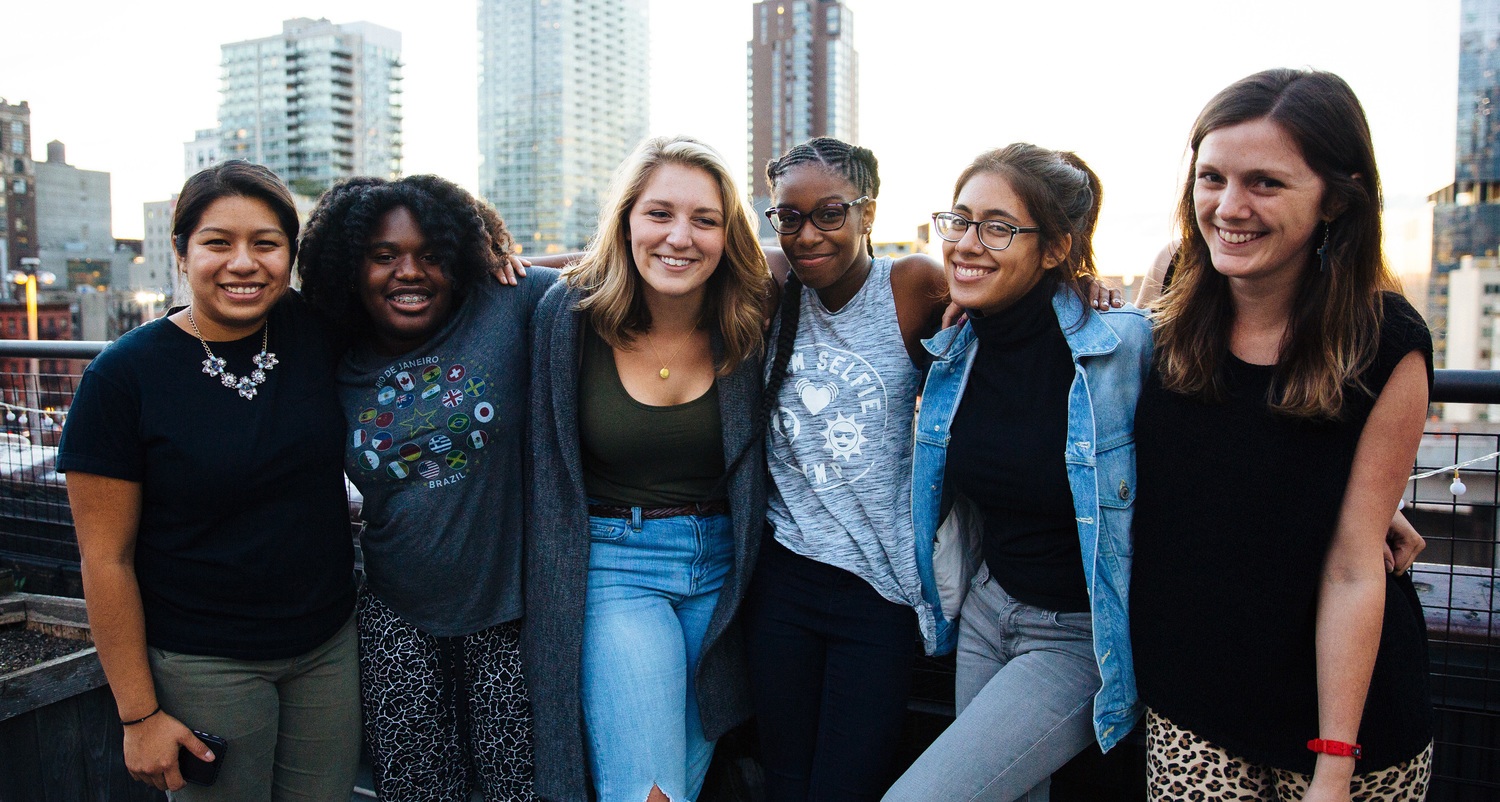 I can't imagine Rauschenbuch Metro Ministries without Gaby. I can't imagine NYC without Gaby. I can't imagine America without Gaby.  Sitting at her graduation celebration last weekend, my jubilation was intertwined with shame.  Her family has welcomed me, my children and my husband with open arms into their lives.  The country of my birth does not do the same for them. And why not? Because it's a crime to desire better working and living conditions for your family?
I hope our imaginations are big enough to hold Gaby.
And her whole family.  These United States of America are better because of her light.
I imagine a world where a piece of paper doesn't identify me.
I imagine a world where a piece of paper doesn't define the places I can travel to.
I imagine a place where hard work is rewarded and where people can live off doing work that inspires them and brings them great satisfaction.
Can we imagine with Gaby? I think we can. I think we should.
If you're feeling inspired to learn more or to support organizations working with DREAMers or Immigrants, check out some of my favorite organizations. What others do you recommend?