A common characteristic of white supremacy is pitting oppressed groups against each other.  This is currently happening with a media uproar attacking the Women's March, citing anti-semitism, bigotry and hatred in their leaders.  This couldn't be further from the truth.  I know this because I've experienced it first hand.  One of the 4 national leaders of the inaugural women's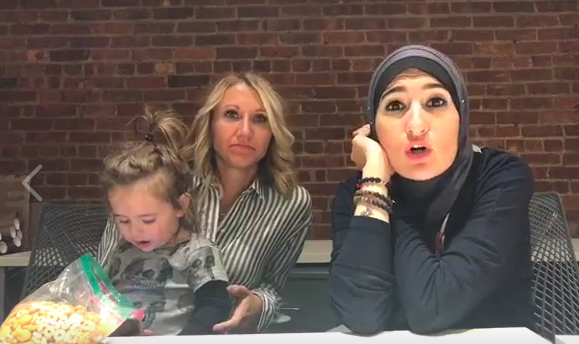 march is Linda Sarsour, pictured here with S and I after we did a Facebook Live on "Daring Discussions" in the Fall of 2016. (Yes, S participated). I've stood with Linda in below freezing temperatures against the Muslim ban, (at which time she found hand warmers for my babies), sweated with her in DC getting arrested in a witness against family separation, and marched with her for black lives, immigrants, womxn, transgender people, and yes, our Jewish sisters and brothers.
It breaks my heart that this fierce, brilliant, compassionate and ever justice seeking Palestinian Muslim Brooklyn born and bred mother of three is continually attacked.  But it's not too surprising.  She is the antithesis of "making America great."  This Thanksgiving season, I am deeply grateful for the vast ways Linda fights for ALL OF US.  Yes, even you, and I'm imagining conversations that will move us towards discovery and away from fear. (See helpful articles on this below).
Let us not fall for the longstanding tactics of white supremacy of divide and conquer. Unity is NOT uniformity. I am not building a unified movement where we will all agree on every single point and issue. I am building a complex, intersectional movement with the clear understanding that it will be messy and uncomfortable because if it was going to be easy someone would have done it a long time ago and we would all have our rights and be enjoying our lives in a free democratic country that treats us all with dignity and respect. But here we are.
This is not a side job, or a labor of love – this is a matter of life and death for the communities we love and come from.
I ask you all to model how we approach each other in the movement. Have conversations, reach out, ask questions, give benefit of the doubt, contextualize moments outside of your own personal feelings, remind yourself of the good this person or persons or organization has done. Use critical thinking skills.
Be honest with your feelings, speak from the I, propose solutions and not demands. Challenge people in your circles, engage people. Tearing down, threatening movement leaders with "say this or else we won't do this or if you don't say this then its meaningless" is not the way. 
Thanksgiving is upon us. A time when many of us will gather around table.  Will we give lip service to formality and graciously nod and smile to cousins, aunts, uncles, siblings, and parents, even if they are the very ones with whom we disagree?  Probably so. And we will cite time, politeness, and uselessness as excuses.  I know I will. But I'm striving to have more of the hard conversations — especially with those who are closest to me — and I'm striving to do so with an umbrella of openness and understanding.  
Last Spring I was introduced to Essential Partners whose mission is to foster constructive dialogue where conflicts are driven by differences in identity, beliefs, and values. (Amazing, right?)
Download their brilliant guide: "Conversations Across the Red-Blue Divide" as a first step.  Two additional articles I enjoy are:
Bust Magazine: How to Talk About Racism, Sexism & Bigotry with Family & Friends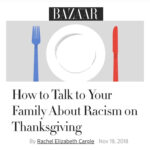 Bazaar Magazine: How to Talk to your Family about Racism on Thanksgiving by Rachel Cargle
Or, if you're in the New York area, Middle Collegiate Church is offering a free Transforming Difficult Conversations Workshop on Tuesday, November 27th — RSVP here!  
I'm grateful for these resources, leaders like Linda who pave the road for difficult conversations every day, and the chance to try some of this out myself.  What about you?