"Hollywood has magic power. And they've been wasting it. The whole point is to use our imagination in making films, and we're using it horribly.
Fascinating start to an exclusive interview with Abigail Disney, award-winning documentary filmmaker, activist, philanthropist, mother of four, and granddaughter of Roy Disney, co-founder of The Walt Disney Company along with her great uncle, Walt.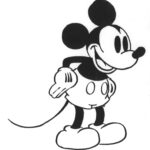 In many ways, Abby is a daughter of America's first Hollywood fantasy.  Yet from a young age, Abby understood that fantasy and castles aren't equally distributed and she has devoted her life to women all over the world, those up against the deepest obstacles of war, misogyny, and political unrest, and those in her own New York City backyard, like myself.
As women do, I was connected to Abby back in 2007 by a grandmother figure who wanted to connect powerful women in the big apple. (One slightly more powerful than the other, but who's counting?) Abby quickly became a femtor of mine. I deeply appreciate her devotion to human rights, women's equality, and global peace and am grateful for the inspirational and seamless way our lives have intersected over a decade.
I'm thrilled to (re-post) Abby's interview today as part of our Tuesday Series: People who Help us Imagine a Better World.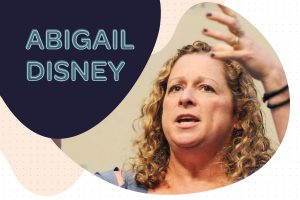 I sat down with Abby in her midtown office because she is one of our generation's change makers, inching our collective imagination towards a more just and loving world. Our time together took off after I asked what role imagination plays in her philanthropic efforts. Read below for that and her new adventure of taking on Hollywood!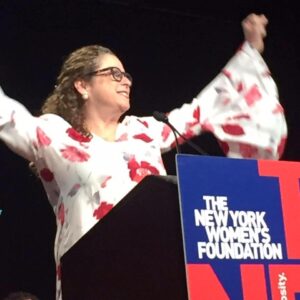 Stories matter more than anything else in the world, Abby began.  Communal sharing of story is as old as fire. It's as human as it gets.  We are drawn into story because we want resolution. We want to know the ending.  Modern day films elevate the power of story to another level. The arrangement of light and sound and story allow us to forget who we are and morph into new characters, now possibilities, and new ideations of imagination.  It's a sacred responsibility to make movies. It's heart surgery!
Hollywood holds the power of story, and they continually tell stories of violence, propagate racism, and fantasize the patriarchy.  The products of our imaginations come from those who are on the inside making movies, and we now find ourselves in a world where we've been indoctrinated to champion violence, intolerance, fear, greed, and at worst, remain blissfully ignorant to our condition.
It's time to reclaim Hollywood.  To use the power of story and film to engage our imaginations in peaceful, powerful and redeeming ways.
RI: How are you planning doing that?
I recently teamed up with Killer Impact to launch Level Forward, a female-led startup studio venture to back projects driven by women and people of color. Killer Impact's mission is to provoke open dialogue, ignite awareness and encourage advocacy of socially relevant issues by producing engaging, artful content. Killer Impact supports under-represented voices in storytelling, providing a means of creative and financial participation in projects that challenge convention and advance diversity. Through their work, they endeavor to rewrite the social script while creating impact campaigns for meaningful change.
RI: Three cheers for that, Abby! 
Abby also is the producer of several award-winning documentaries, Pray the Devil Back to Hell, documenting the untold Liberian women's peace movement, and The Armor of Light, a moving film that follows an Evangelical minister (Rev Rob Schenck) and the mother of a teenage shooting victim (Lucy McBath) that poses the question – is it possible to be both pro-gun and pro-life? (Run and watch both of these!)
Additionally, Abby is the founder of Peace is Loud, the NYC based nonprofit spotlighting women on the frontlines of peacebuilding worldwide, and was instrumental in the PBS TV series Women War and Peace, a 5 part series that challenges the conventional wisdom that war and peace is men's domain and reframes our understanding of modern warfare.
So, what can we do? 
For starters, "when a film relies on violence for entertainment, walkout," Abby told Huffington Post in 2016.  Secondly, we must remember the tremendous power of film and critically examine the stories told to us.  Who is left out?  What is untold? Who is telling what stories?
May there be more like you, Abby, uplifting and investing in untold stories of peace builders, revolutionaries, and uncommon friendships.  It is those stories that harness our ability to imagine more for humanity and the world.  Hollywood, here we come — happily ever after.