This weekend we traveled to Kentucky to surprise my Mom with a retirement celebration after a stellar career as a Middle School English teacher.  One of my sisters traveled with her baby, Malik, from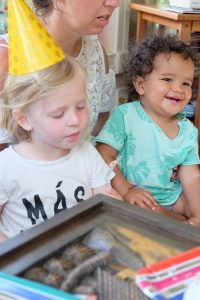 Nairobi and we celebrated his 1st birthday together yesterday. Celebrating your children with family provides unparalleled joy, do you agree?  Around family, we feel known. We more keenly feel a connection with our place in the Universe and in time. And in a perfect world, we are safe.
My celebrations this weekend are matched with inexorable sadness. Have you seen all the reports and hashtags surrounding missing immigrant children?  It occurs to me that some basic information on this topic might be helpful, (especially when my husband mentioned last night he didn't know what I was talking about), so I've done that below. I hope you'll read and learn with me, and offer your thoughts and resources at the end. 
Who are these children?                                                                                                                                       
They are the children of migrants who went to the border unaccompanied seeking asylum.
How do we know children are missing?                                                                                                             
On April 26th, the NYTimes reported that a top official from the Department of Health and Human Services (DHHS) testified before Congress that, "the agency had lost track of nearly 1,500 migrant children it placed with sponsors in the United States, raising concerns they could end up in the hands of human traffickers or be used as laborers by people posing as relatives."  From October 2017 until the end of last year, officials at the Office of Refugee Resettlement tried to reach 7,635 children and their sponsors. Here is what they learned:
6,075 children remained with their sponsors

28 had run away

5 five had been removed from the United States

52 had relocated to live with a nonsponsor

1,475 children's whereabouts are unknown* Update: See Vox article below. 
What happened when children got to the border?                                                                                         
They were placed in sponsor homes by DHHS. The problem is, the homes they are put in are not vetted or verified. Unlike foster homes, they do not go through background checks nor do they receive regular home visits.  (I have several friends who foster children, adopt or are in the process of doing so. The rigorous demands and guidelines they are required to meet, hurdles they must jump through, financial and time investment make my head swim.  How is it possible that there is such a stark contrast? Are children not children?)
What happens to the children in the sponsor homes?                                                                                 
Sadly, an array of horrific things.  An AP investigation in 2016 found that more than two dozen children had been sent to homes where they were sexually assaulted, starved, and forced to work.  Yesterday, the NY Times confirmed another level of atrocity: The negligence on behalf of border patrol has allowed many of these children to fall into the hands of traffickers.  Yes. Child trafficking. Right here in America. (Have you seen the PBS Documentary Trafficked in America that tells the story of Guatemalan teens forced to work in an egg farm in Ohio?)
Why, suddenly, is this issue all over my newsfeed?                                                                                     
First, because Friday was National Missing Children's Day, so the unsettling reports from April are gaining rightful internet rounds since then.  Secondly, Attorney General Jeff Sessions announced in early May that children and parents will now be separated at the border, a change from a long-time immigration policy which allowed them to stay together while their cases are processed.  This new law brings the reality of recent trafficking and abuse reports into sharp focus. As we separate children from their parents, we willingly place them in the hands of abusers and traffickers.  It should be noted, however, that these two issues in isolation are problematic and should cause us to question our country's immigration policies. (Hundreds of Immigrant Children have been taken from Parents at U.S Border)
Is this the first time the public has known of this?                                                                                           
No, almost two years ago we learned of this negligence at which time the DHHS promised reform. This has not happened.  Additionally, you may have seen rounds of these horrifying pictures that offer glimpses of children being held at detention centers in Texas.  Can you imagine if your child were lying face down in a cage, suddenly stripped from the comfort of family and home?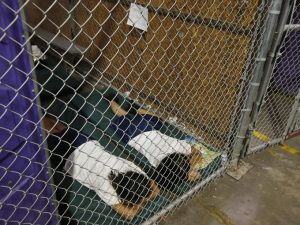 Often, our best use of imagination is to make us uncomfortable.  These photos are from 2014. I find myself asking why it takes such an outrageous movement to sweep the headlines before I am engaged.  I must do better. I must continually educate myself on the realities of life for all God's children.
Anything else?                                                                                       
This morning I came across a thread from Josie Duffy Rice (@jduffyrice on Twitter), a lawyer in Atlanta who works on criminal justice issues and has 4 attorney friends working closely with cases such as this. She brings up a good question of responsibility and that of making sure our efforts in advocacy are helpful rather than harmful — whose responsibility is it to keep track of these children?  Are they really missing?  After the Office of Refugee Resettlement (ORR) releases children, must we still track them?  What if jailers kept track of former inmates, she asks? She believes that the "missing" children are living with family members who don't want to interact with the government and shouldn't have to.  She fears that if we demand ORR keep better track of these children that we are in a sense giving ICE more cause to deport and promote fear in families. It seems to me that some of the missing children are in fact in dire danger, and some are protecting themselves. Does this change my outrage?  Not much.  Does it change how I talk about and advocate for change?  Absolutely.  See her full thread here.
Update: Check out this piece by Vox that interviews Jennifer  Podkul, director of policy at Kids in Need of Defense, and friend of my good friend T who lives in DC.  Excerpt:
In late April, a top Health and Human Services official told Congress that his agency had lost track of nearly 1,500 migrant children who had recently left government custody.

Those remarks came under intense and renewed scrutiny over the weekend, particularly in the wake of a new Trump administration policy to separate immigrant children from their parents when apprehended at the border.

Both developments raised concerns about the same issue: how the United States treats children who enter the country without legal status. But the two stories are — in the eyes of many immigration advocates — also quite separate. They worry significantly more about the new policy of separation than the so-called "missing" children, who are believed to be with relatives or sponsors who might have good reasons for not reporting their whereabouts to the federal government.
So What can we do?
Continue to educate yourself on what Immigration and Customs Enforcement (ICE) and Border Patrol (CBP) are doing.
Commit to being an engaged, active citizen of this country.  That is the best way to show your respect on Memorial Day.  If this issue doesn't directly affect you, that is all the more reason for you to use your privilege and speak out for those whom it does. Remember that none of us are free until all of us are free.
Ask the hard questions.  Whose responsibility ARE these children? What would I do if it were MY child lying in a cage?  Imagine even when it's uncomfortable.  There is power in discomfort.

United we Dream has a handy form

you can fill out to make calls for defunding ICE and CBP. (United We Dream is a wonderful resource for Immigrants overall).  

The Women's March just published a petition demanding an end to family separation. Sign it.

Also Sign the ACLU petition

to the Department of Homeland Security demanding an end to the policy of separating immigrant children from their parents.  

 

There are many helpful resources for this conversation.  I've found Rachel Elizabeth Cargle's social syllabus,

which you can download here

, extremely informative. Follow Rachel on Instagram & twitter @1thatgotaway.

In response to the growing number of children and youth separated from their immigrant families at the border or their homes and the thousands of children who have been harmed or abused by our administration's immigration agencies, Families Belong Together are holding a non-violent National Day of Action for Children on Friday, June 1st. Visit Families Belong Together to find an action near you.
Check out this difficult yet informative document from Kids in Need of Defence that gives an overview of the Trump Administration's systematic assault on the protection of unaccompanied children. KIND's vision is a world in which children's rights and well-being are protected as they migrate alone in search of safety.
What other resources have you found helpful? Are you doing anything we should know about to lift up this crisis, and/or to work for reform?  How are you wrestling with this as you parent the children in your life? As you celebrate Memorial Day today with family and friends in safe spaces and circles?  No matter where your political allegiance lies, can we agree that this is inhumane? Can we agree that it is our responsibility to protect children?
Can we imagine together full protection for all the children of the world?  And if so, how must we move our politicians to work towards making our collective dream a reality?
I vacillate between deep sadness, wanting more answers, and a feeling of guilt that I, as an American, am complicit in allowing innocent babies, toddlers, and children to become trafficked, moving them into a massive system that mirrors our for-profit prison system, thereby punishing them because their parents seek a better life. Oh vey.  Remember, no one leaves home unless home is the mouth of a shark.
Happy Memorial Day.  Where are the children?  Rather, where are our children?