I have a complicated relationship with Father's Day (as I do with most Hallmark holidays). And I know I'm not alone here. Even for those of us who are lucky enough to have a father, partner, and/or partner with a father whom we want to celebrate, Father's Day can elicit a wide range of difficult emotions — from estrangement to grief to longing. It can also perpetuate heteronormative relationships and capitalist culture, so there's that. But if there's one type of dad I'm never shy about celebrating, it's the feminist dad. 
The dad that understands that feminism desires equal fundamental rights for both sexes, who isn't threatened by strong women but inspired by them, and, who is intentional about raising both sexes in ways that empower women and challenge tired gender stereotypes. So pull out your feminist fight club badge, and read on to browse Father's Day gifts Rosie the Riveter would be proud of you for gifting.
That's the intro to a recent article I published for SheKnows, the #1 women's lifestyle digital media company with a mission of women inspiring women. Read the entire article, "Father's Day Gifts for Dads Who Smash the Patriarchy," for 12 unique spins on traditional gifts.  For example, a donation to the Lower East Side Girls Club in honor of Dad, a children's book bundle curated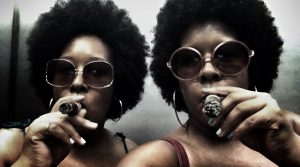 by reading specialist Written & Bound, and a cigar pack from a women-owned cigar company
While I am grateful to SheKnows for publishing the guide (and including the majority of my suggestions), the process confirmed that we're still quite a ways from a feminist world (surprise surprise).  SheKnows hesitated that many of the gifts weren't "fun" or gifts that a Father might actually want. Hmmmm.  Might a truly feminist society require the patriarchy to experience a tad discomfort for the sake of the cause? Yes.
In fact, in order to actively dismantle oppressive systems of inequality, those in power must put themselves in positions of allyship and thereby experience, possibly for the first time, the uncomfortable and the undesirable.  
Additionally, I had to explain my reasoning for including gifts geared towards children (the book bundle and a feminist puzzle, though they were included in the end).  My interest in writing this piece is to demonstrate a comprehensive understanding of feminism, one that includes how we spend our money, our time, and how we raise and talk to the next generation.  I'm not interested in writing this article, or this article that include tired "boys will be good humans" and "this is what a feminist looks like" swag.  My desire is to include intentional and political gifts that provide a fresh perspective and challenge systems of power, economically and socially. Feminism celebrates the opportunity each of us has to challenge binary gender stereotypes.  It is crucial we begin that work with the youngest among us.  One of the easiest ways we can do that is through enlightening books and games. Thus, a feminist dad would cherish such gifts.
Regrettably, my favorite item, Etsy's phenomenal article "Strong Families, Strong Business: A Step Forward in Parental Leave at Etsy" by Juliet Gorman didn't make the cut.  Feminist Dads understand that it is their job to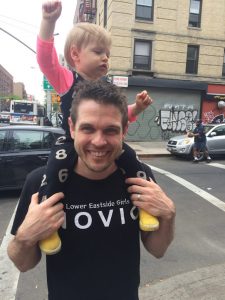 urge companies to expand family leave benefits, ultimately strengthening families, companies, and society as a whole and this gift-of-a-report makes his advocacy a tad easier.  (According to She Knows, the gift wasn't appropriate because it's a post on Etsy's own blog and has less oversight than a journal publication).  Whatever the case may be, I sure wish we could all gift Dad with a guide to moving companies towards this end.  Do you have a roundup of such a guide?  Please share it if so! Does your company have equal parental leave for mothers and fathers? 
PS: Check out this reflection from one Etsy employee on why he took extended leave and the impact it had on his family (yes, that's my husband!)
In conclusion, it strikes me that the editors at SheKnows, even with the stated mission of empowering women, exist within a society that not only has glass ceilings but people that think they must break them rather than create new buildings.  The editors, despite their possible desire to not do so, are pressured into meeting society's standards of what will sell, what's attractive, and what will get clicks.  I don't hate you, SheKnows (though the patriarchy wants me to).  I just wish it weren't so damn hard to smash the patriarchy.  I am hopeful we will figure out how to get there together.
Now go check out the gift guide, and if you're into gifting let me know which one you pick! On Father's Day and every day, let's keep working towards dismantling the patriarchy so the next generation can imagine endless possibilities regardless of their sex.