Last week I agreed to pray at a Protest outside of BlackRock's Headquarters on the morning of their annual shareholder's meeting. It was an interfaith gathering to demand BlackRock exclude companies from expanding fossil fuel production from its active and passive funds.
(BlackRock is the world's largest asset manager, with US$10 trillion in assets under management as of January 2022. If BlackRock keeps investing in companies expanding fossil fuel production (which they've said they will), we cannot limit global heating to 1.5 C, a goal that science and justice demand.)
The news cycle of late has been nothing short of nauseating, from the leaked SCOTUS draft to overturn Roe V Wade, to the massacre in Buffalo, to the recent slaughter of elementary children and teachers in Uvalde, Texas.
I've been sick to my stomach.
I'm sure you have, too. The morning of the protest ended up being the morning after the Robb Elementary School shooting. The thought of showing up at 8AM to talk about fossil fuels seemed pointless. But the longer I sat in my "I don't want to go-ness," the more I came back to the difficult truth that it's the same fight.
So I shifted my "prayer" and went.

I share my remarks with you so we can remember that NONE of the work is insignificant.

The fight for abortion access, to dismantle white supremacy and the patriarchy, for gun safety, and yes even for Environmental Justice are one fight. I remembered that when I show up for Environmental Justice, I'm showing up for the families who will never see their children again and for everyone who dreams of a better, more just world.

Here are my remarks…
"Hi everyone.
I wanted to begin my remarks with a "good morning."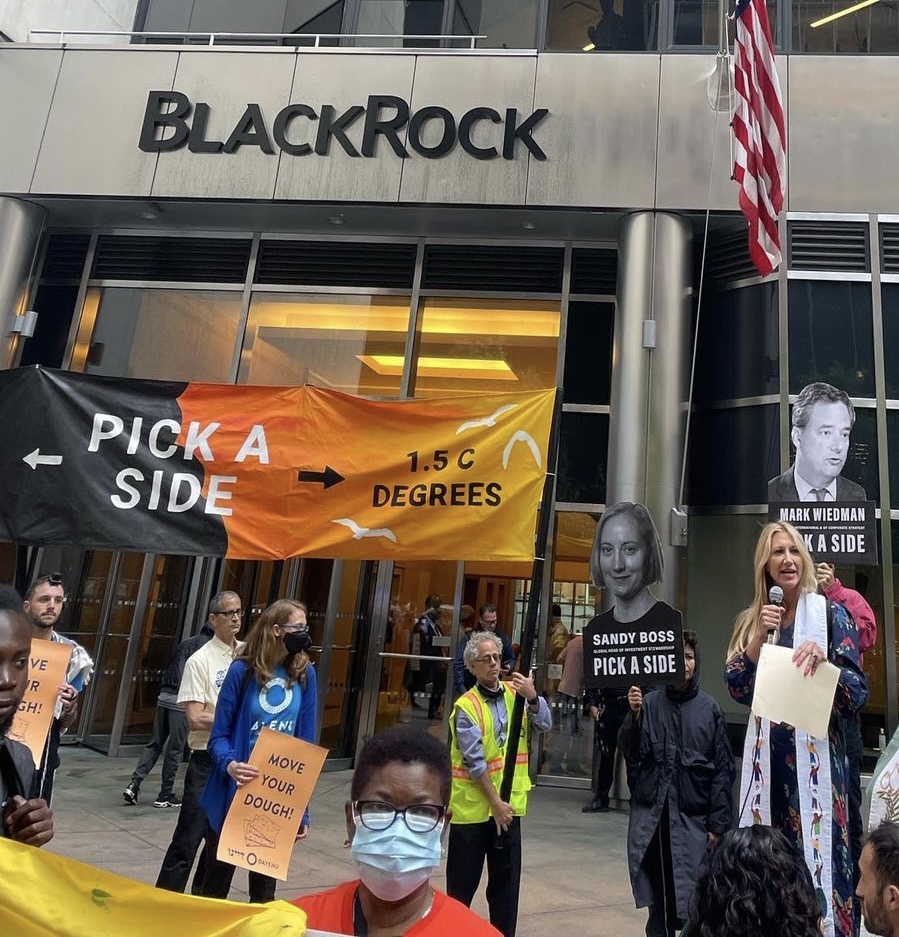 But I can't.
I didn't sleep last night – was that true for anyone else?
I didn't sleep because 21 people – 19 CHILDREN were slaughtered yesterday in an elementary school in Texas – similar to the one I send my three children to every morning.
So no, This morning I am NOT feeling good.
Is it a good morning?
Death happens when we fail to remember we are connected to one another.
Death happens when we allow greed to lead our minds, voting habits, and pocketbooks.
I bring that rage to you because it is Holy.
And it is connected to exactly what happens behind me in the BlackRock Headquarters.
My inability to summon goodness today – my inability to find words – my utter despair – is in response to YESTERDAY'S public mass shooting.
But friends what happens behind us EVERY.SINGLE.DAY. also KILLS US and KILLS OUR NEIGHBORS, FAMILY MEMBERS, AND FRIENDS. Because when we don't take care of our Earth – when we don't invest in clean energy and divest ourselves from the GREED of fossil fuels WE ARE ALSO KILLING EACH OTHER. We just don't see it overnight. We don't see children's faces. But it's happening.
So the ONLY reason I was able to get up today, and come be with you all is because I am a proponent of life. And I'm all for a pro-life gathering!
I believe in our collective ability to turn from this sin and behave in a different way – the way God calls us to live – as co-creators – as people who in our very design in Genesis are called to take care of – to TOIL the soil.
The same greed that funds the Gun Lobby is the greed that expands fossil fuels.
Our work is against individualism, violence in all forms, and glorification of money, and FOR a future that includes the potential for all life to thrive.
BlackRock is NOT on the side of Justice, they are NOT on the side of those of us who believe in life and all her forms – they are NOT on the side of the child – the widow – the orphan – Mother Earth – whom our holy Christian texts also call us to love.
So this is my prayer this morning.
WE ARE PRAYING. By our presence here.
In the book of Amos, the prophet writes of our MORAL CALL TO lament – to cry out – to RAGE in the public square when injustice overwhelms. So this morning we lament. We rage.
THIS – WE are our prayer.
Hear a word from Amos Chapter 5:
There are those who oppress the innocent and take bribes
and deprive the poor of justice in the courts.
13 Therefore the prudent keep quiet in such times,
for the times are evil.
14 Seek good, not evil, BlackRock-
that you may live.
Then the Lord God Almighty will be with you,
just as you say God is.
15 Hate evil, love good;
maintain justice in the courts BLACKROCK!
Perhaps the Lord God Almighty will have mercy
on the remnant of Joseph.
16 Therefore this is what the Lord, the Lord God Almighty, says:
"There will be wailing in all the streets
and cries of anguish in every public square.
The farmers will be summoned to weep
and the mourners to wail.
17 There will be wailing in all the vineyards,
for I will pass through your midst,"
says the Lord.
Friends, God is here. We are here.
BlackRock, we see you. We see your DEATH DEALING. And we are mad.
Amen."